The Hydroclimatic Atlas describes southern Québec's current and future water regime in order to support the implementation of water management practices that are resilient to climate change. The atlas is divided into three tools: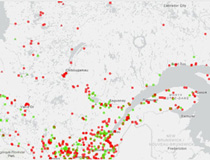 Hydrometric station map (flow and level), with station information and links to data.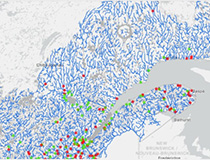 The Portrait is a retrospective analysis of flows. The app provides access to daily flow time series for the period 1970-2022, over nearly 10,000 gauged and ungauged river sections. It gives access to historical flow values for a stretch of river without a station or for a period when data from a station was not available.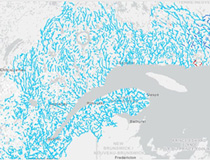 Hydrological indicators (flood, low water, etc.) for the historical period and projected in future climate, for nearly 10,000 sections of gauged and ungauged rivers.